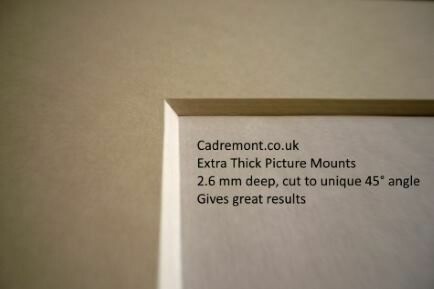 Extra Thick Photo Mounts
SKU extmnt
Product Details
Extra Thick Picture Mounts
Using a mobile / tablet device - please swipe to view the colours

Extra Thick mounts are 2.6mm thick and limited to two colours but we do offer them in a variety of frame sizes and apertures.
Please note - the apertures listed are cut ¼ inch under size. This is so the mount will fit over your artwork. For example if you have a 6x4 photo, the actual aperture size will be 5¾ x 3¾ .
We also offer a bespoke aperture option for certain sizes. (located at the bottom of the aperture list). Bespoke orders will be cut exactly to the dimensions you specify. Please specify inches or centimetres, e.g 'A4 - Bespoke' - you would use 15x10cm or 3x3 inches etc.


Please note - Mounts come in packs of 10, so a quantity of 1=10 mounts, 2=20 mounts etc
All mounts are 100% acid free, and manufactured using Conservation Standard Mountboard.
All mounts fully comply to FATG (Fine Art Trade Guild) Conservation level. They also pass the Silver Tarnish Test and Photographic Activity Test
Save this product for later