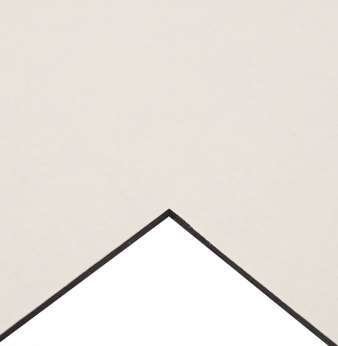 Black Core Mounts - pack of 10
SKU blackcore
Product Details
Black Core Mounts
If using a mobile please swipe the images to see all the colours available.

Using single mounts for your project but want to add a little something to make your work standout - try using Black Core Mounts
They contain carbon black to create a deep black coloured core offering a distinctly different appearance.
Each mount is alkaline-sized, pH neutral and has a calcium carbonate buffer to enhance its useful lifespan by minimising the effect of atmospheric pollutants. Manufactured in the UK. They Standard Board thickness is 1400µ (1.4 milligrams)
Just select the aperture / frame size , colour, shape etc. All black core mounts are 45° Bevel cut they are uniquely cut like this as it gives your artwork much more depth - no other mount cutter can currently offer this.

Note1 - The apertures listed are cut ¼ inch under size. This is so the mount will fit over your artwork. For example if you have a 6x4 photo, the actual aperture size will be 5¾ x 3¾ .

Note2 - We also offer a bespoke internal aperture size option. Bespoke orders will be cut exactly to the dimensions you specify.Please specify inches or centimetres, e.g 'A4 - Bespoke' - you could use 15x10cm or 3x3 inches etc.

Please note - Mounts come in packs of 10, so a quantity of 1=10 mounts, 2=20 mounts etc.
PLEASE ENSURE YOU UNDERSTAND THE ABOVE NOTES BEFORE CONFIRMING YOUR ORDER, ESPECIALLY FOR BESPOKE SIZES - Thanks.
Please see Gallery for examples of the colours
Save this product for later